"Heaven goes by favor. If it went by merit, you would stay out and your dog would go in." – Mark Twain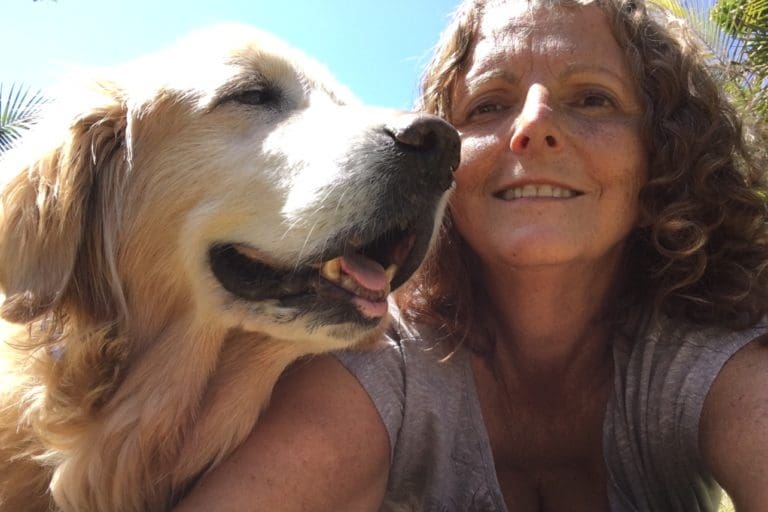 Dr. Sue Wilson
Dr. Sue Wilson grew up in Los Angeles and did her undergraduate studies at California State University, Northridge before moving north to attend the School of Veterinary Medicine at UC Davis, class of 1986. After completion of an Internship in Small Animal Medicine and Surgery at Cornell University, she moved back to California to practice in the San Francisco Bay Area for the next 25 years. Being the sun-worshipper that she is, Sue moved to San Diego in 2012 and loves all that the area has to offer. Having provided in-home euthanasia for her patients in the bay area has given her the experience to know how important this last phase of a pet's life is. To be able to provide comfort, compassion and closure to family members and their pet in this transition is something she feels very privileged to be a part of. Sue lives in Clairemont with her senior rescue golden retriever, Roscoe, and two cats, Mole and Widget. In her free time, Sue enjoys going to the beach, hiking, camping, wine tasting, gardening, vegan cooking, scrapbooking and yoga. As of September 2014, Sue is the new owner of Transitions Veterinary Services.
Dr. Justin Altman
Dr. Altman was born and raised in Southern California and has been in San Diego since 1995. He
completed his undergraduate degree at San Diego State and received his DVM from Ross
University in 2008. Justin has always strived to provide as much comfort as possible to pets in
need, especially in their geriatric years. His genuine love of animals consumes him 24/7 and is
one of many reasons we are honored to have him with us at Transitions. He is truly dedicated
to helping provide a peaceful passing for pets at home in a comfortable, safe, and loving
environment. Justin lives in Lakeside with his wife Robin and his two dogs, Big and Shug. In his
free time, he likes to go camping, spend time with his family, and sometimes plays video games.
Kim Guyer
Kim is a military brat who was born in North Carolina but raised everywhere. She moved every three years while growing up, starting school in Oahu, Hawaii and graduating in Key West, Florida. She attended Tidewater Community College in Virginia Beach, Virginia and a branch of Florida State University while living in Panama, Central America
Kim lives with two dogs and a varying number of cats. She has worked in veterinary medicine since 1996. In addition to working with Transitions Veterinary Service, she is also employed as the clinic technician for Feral Cat Coalition. Veterinary medicine is her passion and she believes pets are an important part of your family. Alleviating suffering and helping your pet pass peacefully is the greatest gift you can give your beloved pet and Kim is grateful for the opportunity to help families through the process.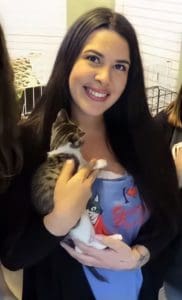 Amanda Hodder
Amanda knew from a young age that her love for animals would lead her to do great things. She could always be found with a pet or animal by her side. Her friends have jokingly call her Snow White, because stray animals always seem to find her. In 2017 she followed that passion and started fostering kittens, and the next year she began the process to open her own 501c3 nonprofit kitten rescue. Since then her volunteer-operated organization has saved the lives of hundreds of kittens. In 2020 she became a mother to a little boy named Zephyr, and in 2021 she became part of the Transitions team. On top of running the rescue and working for Transitions she is a stay-at-home mom.
Always With Us Pet Aftercare Services
Always With Us provides loving care for your sweet companion on the other side of the
rainbow. They are a small local company that truly goes above and beyond to provide a gentle,
respectful service for you and your pet. Mac and Robin are always available to help and answer
any questions along the way.
Website: alwayswithus.online
Email(recommended): alwayswithusemail@gmail.com
Voicemail: 619-499-5811